2013 Native American Dollars
The 2013 Native American $1 Coin marks the fifth annual release in a series of strikes dedicated to the important contributions of Native Americans. Reverse designs of coins in the series are emblematic of a specific contribution and change annually.
This program made its debut in 2009 but actually continued a previous series of coins that went back even further, In 2000, the US Mint debuted the first Sacra Dollar which ran with the same reverse design until the inaugural strikes of the new program replaced it.
The new series was authorized by Congress with the passage of the Native American $1 Coin Act(Public Law 110-82). This Act became law after being signed by President George W. Bush on Sept. 20, 2007.
The purpose of the Act was "To require the Secretary of the Treasury to mint and issue coins in commemoration of Native Americans and the important contributions made by Indian tribes and individual Native Americans to the development of the United States and the history of the United States, and for other purposes," according to the authorizing legislation.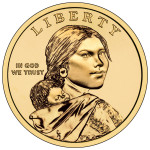 Like the previously related series of coins, the obverse of the 2013 Native American $1 Coin contains a portrait of the Shoshone woman who served as an interpreter and guide for the famous Lewis and Clark Expedition. The design was originally completed by sculptor Glenna Goodacre. Inscriptions on the obverse include LIBERTY and IN GOD WE TRUST.
An edge inscription is also found on all coins of the series. The inscription includes the year, mint mark, and E PLURIBUS UNUM.
Reverse designs featured previously in the series include:
The 2013 Native American Dollar features an all new reverse emblematic of the theme of "The Delaware Treaty (1778)." This design is the work of United States Mint Artistic Infusion Program Master Designer Susan Gamble and was sculpted by United States Mint Sculptor-Engraver Phebe Hemphill.
It depicts a turkey, howling wolf and turtle which symbolizes of the clans of the Delaware Tribe. Also shown is a ring of 13 stars representing the original Colonies. Reverse inscriptions include UNITED STATES OF AMERICA and $1.
Native American Dollar Specifications
Mintmark: D, and P for circulation versions and S for proof
Finish/Condition: Circulated, Proof
Composition: 88.5% copper, 6% zinc, 3.5% manganese, 2% nickel (manganese-brass)
Weight: 8.1 grams
Diameter: 26.5 mm or 1.043 inches
Edge: lettering
Date of Issue: TBD
Mintages: Based on Demand
Obverse Designer/Sculptor: Glenna Goodacre
Reverse Designer/Engraver: Susan Gamble / Phebe Hemphill
Native American $1 Coin Resources