2009 Lincoln Professional Life Penny
The 2009 Lincoln Professional Life Penny launched into circulation on August 13, 2009, following the United States Mint official release ceremony on the grounds of the historic Old State Capitol in Springfield, Illinois.
It is the third of four redesigned 2009 Lincoln Cents where each celebrates a different aspect of Abraham's Lincoln's life and all commemorate the 200th anniversary of his birth on Feb. 12, 1809.
The third penny represents Lincoln's Professionally Life in Illinois, and depicts Lincoln in front of the building where the launch ceremony was held. US Mint Director Ed Moy described coin at the event.
"Lincoln speaking in front of the Old State Capitol-sums up his Illinois experience," said Moy. "Illinois is where Lincoln evolved into a successful lawyer and politician. His service in the state legislature and Congress, and his debates with Stephen Douglas, paved the way to his election as President."
Springfield is where Abraham Lincoln spent most of his adult life and it has developed a special relationship with those interested in the 16th President of the United States. Home to Lincoln's Tomb and the Abraham Lincoln Presidential Library and Museum as well as a plethora of other Lincoln related sites, Springfield was the ideal location for a ceremony in his honor.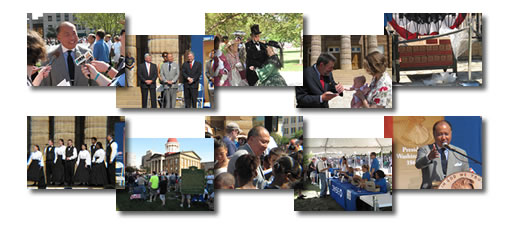 For six years, Lincoln would call New Salem, Illinois home and would venture into several different occupations. These would include store clerk, postmaster, surveyor, rail splitter, soldier, and finally in 1834 he would make a foray into politics when he was elected to the Illinois General Assembly.
Lincoln came to Springfield in 1837. It is here where he met and married Mary Todd and their four child were born. He became well known as a lawyer and in 1846 won election to the U.S. House of Representatives as a member of the Whig Party.
Illinois Senator Stephen Douglas was up for reelection in 1858. The state Republican convention nominated Lincoln for the seat. His attempt to defeat Douglas ended in failure, but not before Lincoln many public speeches and debates that carried him to the forefront of American politics. At the 1860 Republican convention, he secured the nomination for President and was elected that fall.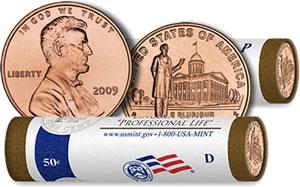 As occurred following the first Log Cabin and second Rail Splitter penny launches, the US Mint offered Lincoln Professional Life cents in two-roll sets containing $1 worth of equally divided Philadelphia and Denver circulating pennies for $8.95.
Between Thursday, Aug. 13, and Sunday, Aug. 16, the Mint had sold 152,146 of the sets. With 50 pennies per roll, that's more than 15.2 million pennies purchased by collectors in those few short days.
While demand was considered enormous for the first Log cabin cent design, it took nearly two weeks for 96,000 of the two roll-sets to be sold. However, the newly released third designed penny ranked behind the steaming Lincoln Rail Splitter sales, with its 200,055 two-roll sets sold during the same same inaugural days.
The US Mint also has several other products that include collector versions of the new cents. Unlike the circulating varieties as depicted in the image above and the coin specifications below, these are struck in a bronze alloy matching the original 1909 Lincoln cent -- 95% copper, 3% zinc and 2% tin.
2009 Lincoln Cent Design Themes
The reverse designs represent the four major aspects of Abraham Lincoln's life, represented by the following pennies or designs:
Log Cabin Penny
Birth and early childhood in Kentucky (1809-1816): Lincoln was born in a log cabin, and the coin with a cabin design is meant to signify the humble beginnings experienced by the 16th President of the United States.

Rail Splitter Penny
Lincoln's Formative Years in Indiana (1816-1830): Features a sitting image of Lincoln reading a book as he takes a break from rail-splitting

Professional Life Penny
Lincoln's Professional Life in Illinois (1830-1861)

Presidency Penny
Lincoln's Presidency in Washington, DC (1861-1865): Features a half-completed U.S. Capitol dome, as it appeared during Lincoln's Presidency.
This series was authorized as part of the Presidential $1 Coin Act of 2005 (Public Law 109-145) as one of several ways into 2009 to celebrate the bicentennial of Lincoln's birth in 1809.
Lincoln Professional Life Coin Specifications
Mintmark: D (Philadelphia strikes have none)
Finish/Condition: Circulated
Composition: 2.5% Copper, 97.5% Zinc
Weight: 2.500 grams nominal
Diameter: 0.750 inches or 19.05 mm
Edge: Plain
Date of Issue: 13 August 2009
Mintages: Based on Demand
Obverse Designer/Sculptor: Victor D. Brenner
Reverse Designer/Sculptor: Joel Iskowitz; Don Everhart
Penny Resources