2009 Lincoln Log Cabin Penny
The United States Mint launched the 2009 Lincoln Log Cabin Penny on February 12, 2009 at the National Park Service's Abraham Lincoln Birthplace National Historic Site, in Hodgenville, Kentucky.
The day was appropriate, as it was the 200th anniversary of Abraham Lincoln's birth, which each of the four four redesigned 2009 Lincoln Cents celebrate.
The new penny, officially known as the 2009 Lincoln Cent Birthplace, features a log cabin design which is representative of Lincoln's birth and early childhood in Kentucky. Lincoln was born in a log cabin, and this new coin is meant to signify the humble beginnings experienced by the 16th President of the United States.
The design is perhaps most unique in the 2009 group as it is the first cent to depict a different reverse (tails side) in 50 years. It replaced the Lincoln Memorial design by Frank Gasparro that was first issued in 1959, which had replaced the wheat penny design introduced with the very first 1909 Lincoln cent.
One consistency between the previous two versions and the new 2009 coins is the portrait on the obverse side. It features Lincoln facing to the right and was designed by Victor D. Brenner.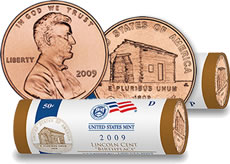 The Log Cabin penny has already proven to be extremely popular with collectors. On Friday, March 13, the US Mint began offering two-rolls containing $1 worth of equally divided Philadelphia and Denver pennies for $8.95, plus $4.95 for shipping and handling.
Despite what seemed like a high price for many, 63,772 of the Log Cabin penny rolls were sold in about a week's time. Mere days later the total moved up to the final 96,000, when the Mint stopped selling them.
The US Mint also has several other products that include collector versions of the new cents. Unlike the circulating varieties as depicted in the image above and the coin specifications below, these are struck in a bronze alloy matching the original 1909 Lincoln cent -- 95% copper, 3% zinc and 2% tin.
2009 Lincoln Cent Designs
The reverse designs represent the four major aspects of Abraham Lincoln's life, and are depicted by the following pennies themes or designs:
The series was authorized as part of the Presidential $1 Coin Act of 2005 (Public Law 109-145), as one of several ways to celebrate the bicentennial of Lincoln's birth during 2009.
Lincoln Birthplace Coin Specifications
Mintmark: D (Philadelphia strikes have none)
Finish/Condition: Circulated
Composition: 2.5% Copper, 97.5% Zinc
Weight: 2.500 grams nominal
Diameter: 0.750 inches or 19.05 mm
Edge: Plain
Date of Issue: 12 February 2009
Mintages: 350,400,000 D; 284,400,000 P
Obverse Designer/Sculptor: Victor D. Brenner
Reverse Designer/Sculptor: Richard Masters; Jim Licaretz
Penny Resources